Video
Images
The Guests
---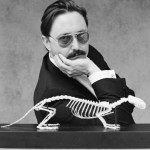 John Hodgman
@hodgman
http://www.johnhodgman.com
John Hodgman is an author, humorist, actor, and expert. He is a frequent contributor to "This American Life," appears regularly on "The Daily Show with Jon Stewart," has appeared on NBC's "Community" and "30 Rock," HBO's "Bored to Death," and was the PC in a series of ads for Apple computers. Hodgman is the author of the "COMPLETE WORLD KNOWLEDGE" trilogy, a compendium of invented trivia and completely fake facts. He hosts the "Judge John Hodgman" podcast, and in 2013, he released the original comedy special, "John Hodgman: Ragnarok" on Netflix.
John Darnielle
@mountain_goats
www.mountain-goats.com
In this room, equipped with a dual-cassette recorder, Singer songwriter John Darnielle started setting some of his poetry to music, using a guitar he'd gotten for a few bucks at a nearby strip mall music store. His idea at the time was that eventually his day job would be "poet." Young men have all kinds of crazy ideas about what they're going to end up doing for a living. Today, John is the lead singer from the Mountain Goats.