Wits was a weekly national public radio broadcast produced and distributed by American Public Media. As of September 2015, the broadcast ended. The stage shows that provided material for the broadcast are on hiatus, as is the podcast version of Wits. It is our intention to take a little time away from Wits and then look for ways to bring it back on stage and in podcast in a different form. On Wits, some of the top names in comedy and music have joined host John Moe for sketch comedy, improv, conversation, songs and genuine beauty in a program praised as "one of the rare public radio comedy shows that's actually funny" (Huffington Post) and "one of the most unique, entertaining and diverse shows on radio" (The Growler). You can listen to all of our archives online and follow host John Moe on Twitter (@johnmoe) for more information on Wits and other projects.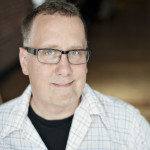 John Moe
John Moe, the host of Wits, has a long and varied career in public radio as well as comedy. Moe served as host of Marketplace Tech Report and Weekend America, both national programs heard on public radio stations. His reporting and commentary has been heard on All Things Considered, Marketplace, Day to Day, and numerous other public radio programs. Moe's latest book is Dear Luke, We Need to Talk, Darth. His writing has appeared in numerous humor anthologies, the New York Times Magazine, and McSweeney's, among many other publications. John has been a lead singer in rock bands, a writer of video games, an editor at Amazon.com, and he once got fired for washing dishes the wrong way.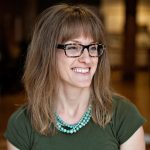 Larissa Anderson
Larissa Anderson is the Senior Producer of Wits. Prior to Wits, she launched and produced Marketplace Tech Report with John Moe. Anderson joined Marketplace after leading the Poetry Radio Project, an initiative that spanned many of APM's national programs including Weekend America, Marketplace, On Being, The Splendid Table, Performance Today and The Story. She honed her radio skills as an intern with American RadioWorks and an assistant producer of programs in the Minnesota Public Radio newsroom. Before her life in radio, Anderson taught English to adult language learners as well as high school English lit. She was also a grant writer, waitress and singer/songwriter. Anderson attended the University of Minnesota where she received her bachelor's degree in English literature. She returned to her alma mater and obtained her master's degree in English education.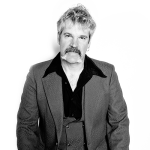 John Munson
Music director John Munson wrote, sang and played in '90s cult favorite Trip Shakespeare as well as multi-platinum-selling hit-makers Semisonic. His current projects include founding and playing bass with jazzy revisionists The New Standards and his latest rock group, The Twilight Hours. He's both funny and a snappy dresser.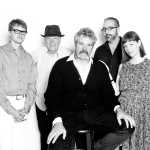 The Witnesses
On vocals: Janey Winterbauer. A member of the dream-pop band Astronaut Wife, she has also lent her voice to Golden Smog, The Jayhawks, The New Standards, and many more. On vibes: Steve Roehm. Steve plays with The New Standards and The Twilight Hours as well as The Neighborhood Trio, and he teaches at MacPhail Center for Music. On drums: Richard Medek. Richard has appeared on rock tours (John Doe, Alternate Routes), Americana albums (Hacienda Brothers, Kelly Pardekooper), and ambient cacophony (Winthorp, with Teddy Morgan and Carl Broemel of My Morning Jacket). On pedal steel: Joe Savage. He's recorded with Mike Doughty, The Jayhawks, Dan Wilson and more. Joe has a Lifetime Achievement Award from the Minnesota Rock/Country Hall of Fame, and he has two instrumental albums of his own.